The Making of OpenSkiez
We at Kuhipaat Communications and Technology Pvt. Ltd., shortly Kuhipaat, have decided to support the indomitable spirit of our friend Vikas Dimri. We are helping him through the OpenSkiez website in his attempt to summit Mt. Everest. His Mission is starting on 5th April 2017. [click here to visit the website]
Mt. Everest is considered the ultimate frontier of human ability. So, it is a challenge not only from the physical fitness point of view, but also in terms of managing the very high expenses involved. Collecting funds through corporate sponsorships is a daunting task. Therefore, Kuhipaat has come forward to help Vikas Dimri in achieving his dream.
Objective
The single minded objective of OpenSkiez is to create an informative platform. And this platform will let brands and corporates see value in terms of investing on Vikas Dimri. Thus, in turn, help Vikas Dimri's dream come true.
Digital Campaign – A Support Campaign Website
OpenSkiez is a support campaign website to help fund Vikas Dimri's "Mission Everest". The website is completely strategized, designed and created by Kuhipaat.
His Mission needs him to strategise and plan for meeting his huge financial requirements. We all know Mount Everest is a costly affair, as it needs costly equipments and attire. So, Vikas Dimri needs sponsorships and contributions to make his dream a reality. Therefore,  this campaign website will help Vikas Dimri gather funds to fulfill his Mission.
An Inspiration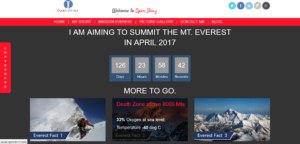 Currently, Vikas Dimri  is the Vice President and Business Head – SME, Trade and Working Capital, in Deutsche Bank AG India. Apart from being a successful and respected professional, he has completed other multiple marathons and summits.
Today, he is a good athlete and a trained mountaineer. This shows how well Vikas Dimri is maintaining the "Work – Passion Balance" in his life. People can rarely accomplish both. Yet, he has excelled in his profession as well as his passion.
Vikas Dimri is a great example for all "ordinary us" to follow Work – Passion Balance in life. And we at Kuhipaat, strongly share this belief. We believe that people should pursue both – their professional career as well their passion; be the profession and passion same or different. Some lucky ones get to make a career out of their passion, whereas for others their profession and passion vary.
So, to take a strong standpoint on "Work – Passion Balance" and promote the same among all the ordinary people, this Digital Campaign for Vikas Dimri is paid for, developed and maintained by Kuhipaat free of charge. Somewhat like pro-bono. This will inspire other ordinary people to achieve the extraordinary.
Promote Fitness And Health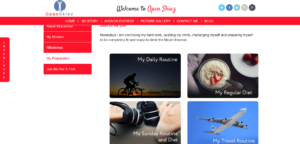 Kuhipaat also believes in maintaining fitness and good health. It goes without saying that Vikas Dimri's lifestyle requires consistency in terms of training and diet. It requires both physical and mental well-being, which means good stamina, no over/under-weight and no stress. He is successfully keeping both, good health and mental fitness. And that is something many thrive for. So, this website will also be about working towards a healthy life, mental as well as physical.
Strategy
The strategy was to leverage the digital media in terms of raising awareness about Vikas and his Mission Everest.
Custom Built Template
Keeping Sponsorship at focus, Kuhipaat has created this Digital Campaign for Vikas Dimri. OpenSkiez is also built for the sponsors who have come forward to support him. The website is developed on a completely custom built template by us.
Content Strategy
The complete content of the OpenSkiez is strategized by Kuhipaat. From structure to design to text – all done by us. We are managing the complete Blog section of the website as well.
SEO (Search Engine Optimization)
Kuhipaat has successfully worked on the various aspects of SEO – content as well as technical. This resulted in including OpenSkiez into Google and Bing Search Engines. We successfully made OpenSkiez recognized in organic search.
SMO (Social Media Optimization)
Kuhipaat is working on Social Media Marketing too. We are using various social media outlets and communities to generate publicity. We are increasing the awareness of the event through social media.
Device Responsiveness
Additionally, Kuhipaat has made the website device responsive as well. We have worked on the responsiveness for different resolutions. So, one may open the website in any phone or tab or pad, it will be device optimized.
The website strategy and development was just part of the full campaign of Vikas Dimri's Mission Everest. There are many other tasks coming up for which Kuhipaat is working out plans and strategies.
Marketing
Kuhipaat has taken the responsibility to manage the overall marketing of OpenSkiez. We will work to create the buzz about Vikas Dimri's Mission Everest. Kuhipaat will help fund Vikas Dimri by acquiring sponsorships. We will work through traditional as well as digital marketing. We will also manage the Public Relation for Vikas Dimri.
Sponsorship fund collection
Kuhipaat is going to approach various brands and corporates to sponsor Vikas Dimri. Thus, Kuhipaat will be giving presentations on how the sponsorships are going to benefit the sponsor. Displaying logos, flags, mentions, etc. are some benefits of sponsorship. Apart from these, there will be different benefits for different sponsors per se.
Collaborations/Social Cause
We are going to add social welfare value to Vikas Dimri's climb and sponsorships. So, Kuhipaat has successfully tied up with the "The Batti Project" recently. "Batti" works to provide electricity to the remotest villages in North-East India. There will be a "Climb to Light" event, where a part of the sponsorship fund is going to be donated towards "The Batti Project".
We are working towards forming more such collaborations in the near future also.
Future Prospects
Post Mount Everest Summit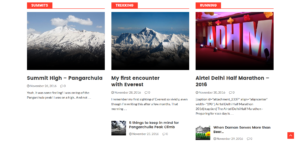 The website OpenSkiez will not stop after funding "Vikas Dimri's Mission". After the Mount Everest summit, Kuhipaat will continue to promote fitness, health and the open skies. And we will continue to inspire people to dream and reach out towards their passion. OpenSkiez will continue to help the ordinary people achieve the extraordinary.