Social Media Management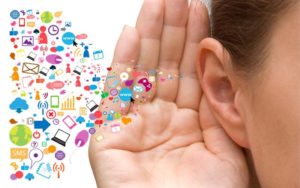 Social Media Management is a vast subject, which needs deeper understanding and constant reading & updates. It has revolutionised access to data, information flow, connectivity, which from our perspective, has affected advertising, media and research understanding.
Social Media comprises the following key elements:
Listening, Research & Analysis

Creation of Content

Content Curation

Bulk Scheduling Strategy

Influencer Marketing

Analysis & Dashboards

and of course, the myriad tools that are available (which is a study in itself)
Social Media Listening
Today, we will try to write our understanding about listening.
Unless we keep listening to the Internet, we can't interact with the Internet. It is not only applicable for a successful social media strategy, but also for search and online display advertising, equally critically.
Secondly, it is important to understand the scope of the listening requirements.
Do we listen to the social media channels that we own, or the competition as well? Do we listen to the whole eco-system of social media including YouTube, Forums, News websites and blogs?
Then there is the definition of Target Audience, which will help us in deciding on the location, language, age, gender etc and even the platforms and devices, to focus our listening queries.
Search Algorithm
There are primarily two ways to listen to the Internet. One is via keywords, and the other is by using boolean search queries. Only the advanced costlier listening tools have the boolean query feature. In keywords, you can mention the keywords in either OR or AND logic, and even list the negative keywords that you want to avoid. In boolean method, we can create an algorithm that can be very precise. For instance, we can find content which has the keyword 'social media' around 20 words of the keyword 'India'.
It is necessary to understand and scope our requirements to go scouting for the best possible software at the best possible price.
Let us present you a list of social media listening tools, which we have found notable and can be considered for social media listening requirements:
1. https://www.brandwatch.com
2. https://mention.com/…/media-…/social-media-monitoring-tools/
3. https://www.meltwater.com/in/products/
4. https://hootsuite.com/platform/monitoring
5. http://mentionlytics.com
Most of these softwares also give other benefits such as engagement, bulk scheduling of social media posts etc. There are a lot more options in the market that you can browse, connect to and take demo on Skype. The best way however is to take a trial for a week to conclude on one of them.
Listening Strategy Infographics
My next post will be on Social Media Engagement.
You are all invited to #AskQuestions. We will try to answer them as best as possible.
Happy Surfing! Have a good day.