Digital Marketing in Films
With 1000 films produced annually, Bollywood is the world's most prolific cinema industry. It is prolific even in its use of digital marketing. According to DI International Business Development, a consulting unit of Confederation of Danish Industry, Bollywood generated revenues of $3 billion in 2011. It has been growing 10% a year. If one closely observes the promotional and marketing strategies of the Bollywood films, dynamism is the only thing one will notice. Bollywood has adapted to the frequent changes in marketing strategies. It comes out as the premier species of the marketing evolution.
From the advent of transistors / radio, Bollywood has innovated to leverage media to the maximum. Even during those days, the promotional activities included on-air contests, interviews with film stars and music composers, selling out complementary movie tickets, options to meet the stars in person, etc. With the emergence of Television, Bollywood started using programs such as 'Chitrahar' to promote its films. The promotional activities remained the same, but the media tilted in favour of television. Especially with the advent and popularity of cable and satellite television.
In the same vigour, Bollywood has now adopted to the new media – Internet for its promotional activities.
The report card of Digital Marketing in films
According to the report of Internet and Mobile Association of India, there were 243 million internet users in the country. Today, we have 462 million Internet users, a 90% jump in 2 years. Around 81 per cent of the online Indian population, according to a report by Hungama Digital Media, engages in some kind of social interactivity on the web.
Inevitably, Bollywood had to take all possible steps and risks to utilise the media better than any other industry. The total marketing budgets of a Bollywood movie comprise almost 30-40 percent of the entire production cost. 20-30 percent of that is now being spent on digital marketing.
Bollywood understands that films have a low shelf life. Marketing therefore needs to be swift and wide. It understands that creating awareness alone is not enough. The masses need to engage and connect with the film, its plot and its stars. With Digital Marketing, Bollywood now promotes its movies right from the very inception of the movie. Promotion starts even before the shooting starts.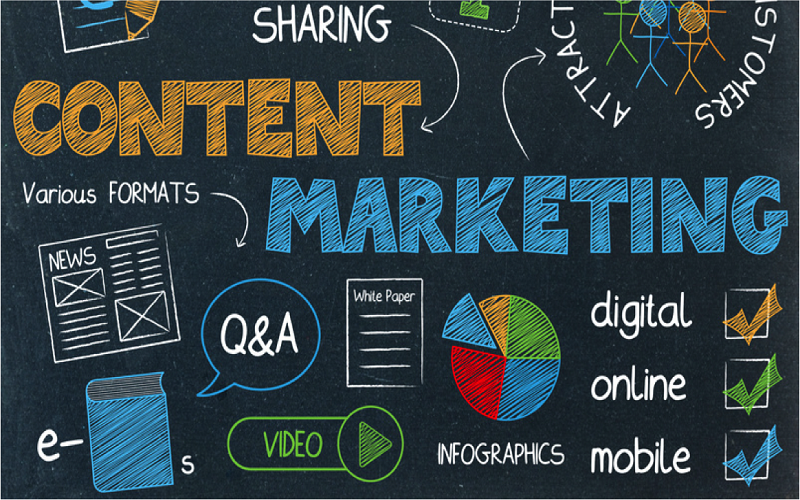 Content Marketing in Movie Marketing
Content Marketing is a type of online marketing that involves the creation and sharing of online material (such as videos, blogs and social media posts). It may not explicitly promote a brand or a product. Content marketing is about digital stories to stimulate interest in the product. It is subtle. Content is placed in various websites by relevance and interests, and can penetrate deep into the minds of the target consumers.
Internet is a network of computers and mobiles that not only allow consumption of content, but also the independence to create and share content anywhere, anytime. Content strategy therefore intends to make content viral, share-able. It must initiate user generated content.
In 2008, when content marketing as a concept didn't exist, Ghajini, had made one official website, and two additional websites. It was created to start a content spiral. It wanted to increase its reach and raise curiosity about its content. Along with the websites, it released a lot of viral content on its FB and YouTube page. All these created a previously unseen hype for the movie. Ghajini holds the notable distinction of being the first movie to break the 1 billion (US$17 million) barrier in Bollywood.
Dabang broke the records of Ghajini and 3 Idiots. The movie created a twitter profile and a YouTube channel by the name, Chulbul Robinhood Pandey, apart from the ones in the name of the film.
A recent example is of the film Bajirao Mastani, which invested in a content strategy by launching an animated web series titled 'Blazing Bajirao'. It was released three months prior to the release of the film.

Social Media in Movie Marketing
Content marketing targets Internet Users by their interests and Internet browsing behaviours. Social media targets Internet Users in their closed groups. It's like referral marketing within millions of closed groups. From an average budget movie to a mega budget movie, all mandatorily design a Facebook page, a Twitter and an Instagram handle.
The team gets the actors to engage with fans in their pages. They even go live on Social Media and chat with their fans. From sharing anecdotes to conducting polls among followers, the pages try to create as much social connections as possible.
Bollywood has successfully integrated on-ground events to boost Social Media engagement. A real event has a better chance of getting viral. To promote Kahaani, Vidya Balan had came out in public with a prosthetic belly. She mingled with the public carrying an onscreen picture of her missing husband. Even the release of the film was planned a day after International Women's Day.
The trailer of the film, Rowdy Rathore, was launched in an open stadium in Worli, Mumbai on 2 April 2012. It received over 2,295,756 views in less than one month on YouTube.
Gaming, Mobile Apps and Bollywood
Bollywood has been a pioneer in using technology such as Online Gaming and Mobile Applications. It has brought in the know-how required for such marketing tools from abroad. Kahaani had engaged the social networking website ibibo.com to develop an online game. The game called 'The Great Indian Parking Wars', required players to park Vidya's taxi on a street. The game was well accepted reaching 50,000 hits in 10 days.
Unlike Hollywood, Bollywood learnt not to wait for their movies to do well before releasing a game. Bollywood started releasing video games prior to the release of the movie. It has proved to be another effective publicity stunt to grab the attention of the audiences.
The 5 most successful video games released by the marketing teams of Bollywood are as follows:
The team of the Akshay Kumar, Sidharth Malhotra starrer, Brothers release a video game by the movie name. Brothers: Clash of Fighters, had 3D animated life-like characters that looked similar to the heroes of the film.
Shahrukh Khan starrer Ra.One released the game titled RA.ONE as the prequel to his actual movie
Krrish gave India its first superhero and had a mobile video game supposedly made by a fan.
Ghajini was the first Bollywood movie that was made into a 3D game for PCs. It has the voice of Aamir Khan as well.
Dhoom-3 released its video game on Android, Windows and iPhone even before releasing the movie trailer and the songs.
Conclusion
Thus Technology has been playing a huge role in movie marketing. Digital Marketing has been used in all its forms and possible technologies by Bollywood. Consequently, it has been very successful in all its initiatives. There is a lot to learn for all digital marketers from the various case studies available on the use of Digital Marketing by the Bollywood film industry.